AArcade adds a new HTML-powered UI system to the Source engine. This allows for highly-graphical menus with familiar web browser interfaces.
The Library Browser menu is designed to help you find what you're looking for quickly & easily without having to worry about keeping your library tidey.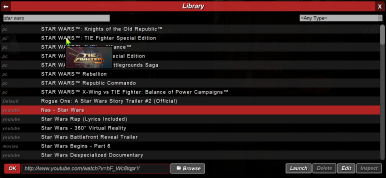 At the bottom of the menu is where you can create a *new* shortcut by pasting in an internet URL or browsing to a local file.
When creating a new shortcut, AArcade: Source provides a feature called META SCRAPING that simply lets you go to a web site & click a button to scrape information off of it to decorate your shortcut's 3D cabinet with.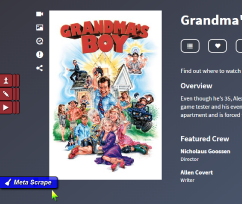 AArcade's meta scrapers are written in JavaScript and are very expandable. Savvy users can write their own addon scrapers, and scrapers for the following sites already exist: YouTube, Origin Store, Steam Store, Google Images, TheMovieDb, Netflix, TheGamesDB, and Giant Bomb.
The screenshot images, marquees, and attract videos to be shown on your 3D shortcut can be automatically scraped from the web, or you can manually customize your shortcut in the Edit Item menu.